Last year, the team at Café Coffee Day found itself in a peculiar bind. By all accounts their business had grown spectacularly – at 1,408 stores across the country it was by far the largest chain of coffee stores. They clearly had the most recognizable of all coffee brands and young people – college going teenagers and those with their first jobs – regularly visited their stores.
Or so it seemed.
So imagine their surprise when a survey showed that only 47 percent of their target customers in the 17-35 age bracket were keen to visit cafes. "This was a huge customer segment that we were weren't reaching," says K Ramakrishnan, president – marketing at Café Coffee Day. Clearly something needed to be done
Even more surprising was that 65 percent of people were willing to visit a quick service formats like McDonalds or Pizza Hut. Those who didn't go to cafes believed they were expensive. Others said they didn't have a partner to take there – so why bother going at all? There was a last set that said the café was a serious place where interviews and discussions took place.
On the other hand the competition was clearly winning. A McDonalds or Pizza Hut served affordable food and were fighting for the same pie of the customers' wallet. They were working on various ways like say a Lunch Price Menu to attract customers through the day. With an eye on increasing bill values Café Coffee Day had also introduced an expanded food menu. But clearly the message hadn't filtered through.
With a national presence and an expanded food offering in place, the team at Coffee Day decided to step outside their comfort zone and work on a medium they'd never worked with before – television.(Till now Coffee Day has spent very little on advertising. In fact, ad spend at the company is negative as it makes more money through in store advertising)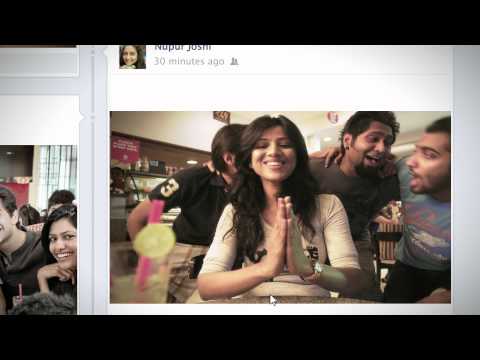 What emerged was the company's first television campaign that encourages people to 'Sit Down'. The catchy two minute commercial produced by CreativeLand Asia shows a bunch of youngsters sitting down and making plans with friends, discussing issues, cribbing about their pocket money and so on. Its broad overarching theme: everything can be resolved once you sit down and make the café your hangout spot.
The 2:22 minute clip is broken down into short 20 second clips that can be shown on television. The campaign will air on national television from December 8. Coffee Day's aim is to make the Sit Down campaign as popular as its earlier tag line 'A Lot Can Happen Over Coffee'. After viewing the clip over and over again one cant help think that this has the potential to become as popular as Airtel's Har Ek Friend Zaroori Hota Hai ad as long as the company has a large budget. Café Coffee Day declined to comment on how much it is spending on the television ads.
In going with a catchy ad for the youth Café Coffee Day has for now chosen to take the eye off the other formats, Lounge and Square that appeal to a more well heeled customer. For instance, Café Coffee Day Square in Bangalore has rooms that can be booked for business meetings. Attracting this high paying customer is a whole new ballgame and Ramkrishnan admits there could be some brand dissonance there. That's one issue the company is still figuring out.